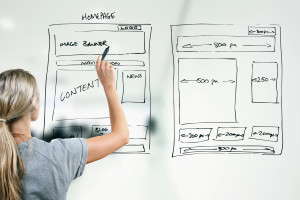 "Can't I just do it myself?" – We hear this a lot lately with the advent of a multitude of build it yourself sites.
Of course you can put a website together yourself. These days it has been made so easy just about anyone can make a site.
The problem is that they have essentially "dumbed down" the design and function aspects so that the general public can easily work the graphic user interfaces without too much of a learning curve. From a user perspective that's great. From a functionality perspective, not so great. Graphic Design and Web Design are a lot more complicated than these sites allow for most of the time so in simplifying, you also lose some of the spectrum of options.
If you want a professional looking website that is custom tailored to your needs, a great web designer or web design company is what you need.
Benefits of hiring a professional vs doing it yourself
Web Designers are "Visual Translationists"
Most clients have an idea in their minds of how ideally they would like their business or brand to be portrayed. Taking that from imagination to reality takes listening skill, understanding, communication, as well as design concept knowledge and software know how.
Once we sit down and talk with the client and go over ideas we can get an initial feel for what they are looking for. Once that idea is put into a physical design for them to see, it can be easily adjusted from there. Collaboration is key.
There are certain steps that have to be followed and completed during website creation. Often some of these stages are often overlooked or skipped by the do it yourself web maker who decide to create their own sites with a builder. This can unfortunately lead to incomplete, messy designs that are not totally done or up to par with what they really wanted. This leads to more and more changes which is time consuming and can screw up your branding image.
Experienced Designers know what works and what doesn't
Sufficient planning is required before constructing any site so that you can create an effective layout with essential functions and marketing tools that match your client's needs. Trial and error is one of the best ways to learn, but let that fall to the designer with years of experience and a great track record of successful sites who has already "been there, done that, and gotten the T-shirt". Technology is always changing and working in the industry daily is the only way to keep up. You want that aesthetic "wow factor" with your site of course, but there is far more encoded behind the graphics for a site to be fully functional.
Customization/Personalization
A template is a template. It's a cookie cutter for web design. They may allow you to change a background or a color here and there, but essentially you get what you get. You can put together some very nice looking sites, but chances are your site will look very similar to many others out there. This is especially true of the free templates offered.
In choosing to hire a professional designer you get the option to let your creativity run wild. This allows you to stand apart from the competition and be far more apt to not only reach but hold the attention of your ideal clientele.
Advice: It's more than OK to be picky about choosing a designer or design company. Don't be sucked in by those offering "a complete website for only $300!"
Find someone you connect with, who you can communicate well with, who is knowledgeable, and has portfolio examples that you like.
Here at Damonaz Designs, LLC. Our professional team of designers, coders and writers are able to offer fully customized website creation as well as SEO and Website Content Management, Social Media and Blog Writing. Give us a call today for a free quote and consultation. 239-244-8350. www.damonazdesigns.com