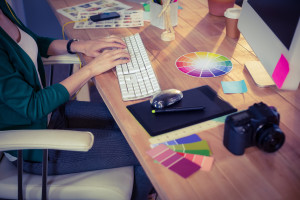 At Damonaz Designs, we strive for excellence. We move mountains to get your site looking exactly how you picture it.  We sit and work with you every step of the way.  We also like to educate our clients as to what is possible and not.
What do we mean?
Even the best programmers and graphic designers cannot force technology do what technology (so far anyway) cannot do.
One of the most often asked questions is "How come my site looks different on my tablet – my phone – this browser?" and further along in the conversation "Can you please fix it so it looks the same everywhere?" We would love nothing more than to say "Yes, no problem". We love our clients and our goal is to make them happy.
Here is where the issue lies
You cannot set a fixed position as to where objects will appear on a screen. You place them where you would ideally like them in the design BUT it becomes relative to the current viewing platform.
Society's sense of design comes from things you can touch and feel – magazines, post cards, billboards, catalogs… Print remains the same no matter whose hands it is in or where they read the magazine.
Websites are viewed from all kinds of perspectives… phones, tablets, ipads, laptops, desk tops, even wall screen projectors.
Another issue becomes the ability to zoom and interact. It changes the size of the fonts and images and different environments handle zooming capabilities differently.
When our designers program and design they take all of this into account. They design as adaptively as humanly possible within the current constraints of our state of the art technology in order for our client's websites to hold as close to the original design as it can in as many environments as possible.
Despite technological limitations DamonazDesigns Designers have a proven track record of creating beautiful and functional websites for our clients. If you are looking to create a new website or update an old one, DamonazDesigns.com is the ultimate solution. Chat with us here on the site or give us a call at 239-244-8350.
Designer working at her desk in creative office