If you have a website you have a registered domain name. While it's an old scam, it seems to be making a come back.
You get a letter in the mail saying you must renew your domain name in a certain timeframe or it will be lost. Many people go right ahead and pay for it.
But it might not even be from the company that holds your domain, your registrar. This is what is known as "Domain Slamming". Its a scam and one that makes millions every year for these thieves.
A typical Domain Slam letter will look something like this: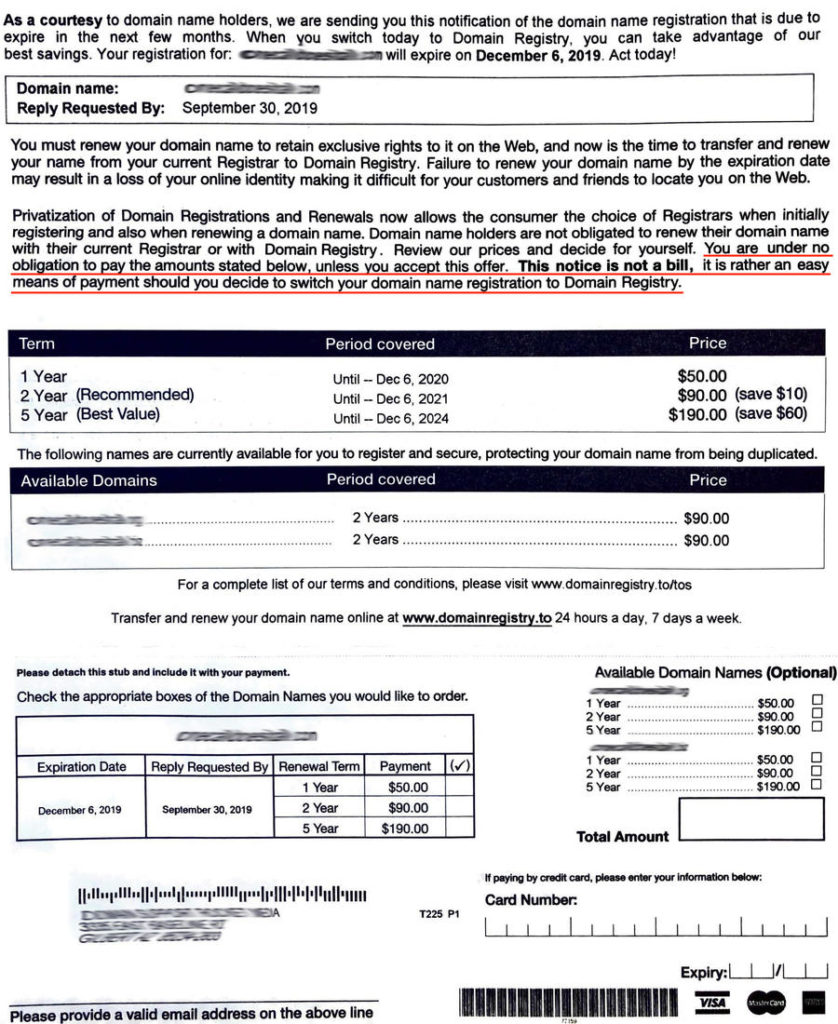 At first glance, it looks like a legitimate bill. But pay close attention to who it is from and the details. We have underlined in red the part that really gives the scam away.
It reads: "You are under no obligation to pay the amounts stated below unless you accept this offer. This notice is not a bill, it is rather an easy means of payment should you decide to switch your domain name registration to Domain Registry."
By paying you agree that they now are your new registrar or at least can be. Who knows if they will even do anything with a switch over. Worse yet, they could very well screw up your website and now they have a reason to keep contacting you and billing you as time goes on.
PREVENT PROBLEMS BEFORE THEY START
Step 1. Know who your registrar is.
If you do not happen to remember you can easily search for it on the www.WHOIS.com database. Simply type your domain into the search bar and you will receive the information.
Step 2. Know when your expiration date is.
Step 3. Fill-in your staff on domain slamming so the accountant or office manager doesn't accidentally pay this fake bill.
We understand how confusing this can be. If you still have questions about who your registrar is or whether or not you're being scammed, we'd be happy to help. Give us a call at 239-244-8350 or you may email us at dz@damonazdesign.com. Damonaz Design is a full-service web company located in Bonita Springs, Florida. www.damonazdesign.com.